The 10th Seminar of Translational Ophthalmology Held Online
The 10th Seminar of Translational Ophthalmology was held online in collaboration with Farabi Ophthalmology Hospital and the TUMS International Relations Office on December 11th, 2020, focusing on the Robotics, Artificial Intelligence, and Image processing.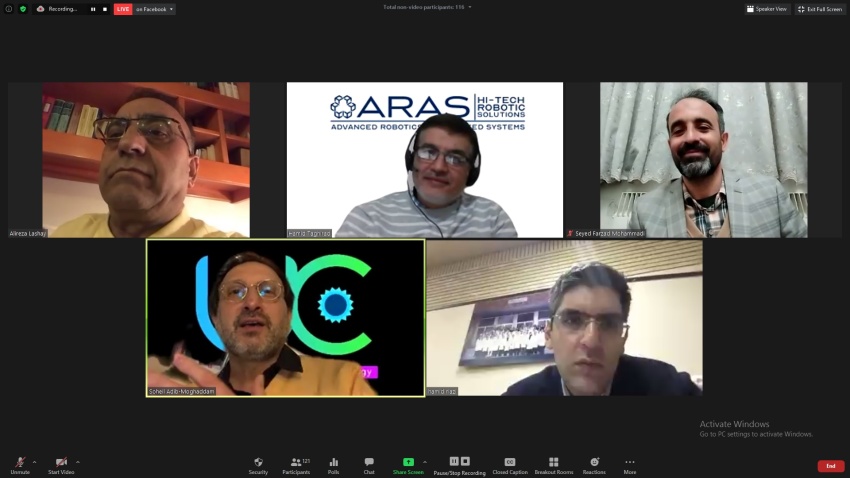 The 10th International Translator Ophthalmology Seminar was held online by Farabi Ophthalmology Hospital in collaboration with the Appraise to Raise group of the University's Vice Chancellor for International on Friday with the participation of prominent national and international professors and researchers. The seminar, which was attended by 420 participants, was held in three specialized panels: robotics, artificial intelligence and image processing.
The webinar was opened by Dr. Arshin Adib-Moghaddam' greeting and welcome to the audience.
This event included three panels in which specialists and experts of the related topics made speech as follows:
Artificial Intelligence (AI)
At the first panel of the event which was about ' Artificial Intelligence (AI)', Dr. Renato Ambrósio explained about 'Enhanced Diagnostics for Corneal Ectasia: The Role of AI'.
Then, Mr. Pouya Sojoudi, Dr. Moein Bahman, Dr. Sare Safi, Dr. Reza Mirshahi, and Dr. Mojdeh Mohseni presented their speech entitled ' The Future of AI in Ophthalmology ',' Artificial Intelligence for Anterior Segment Diseases: Emerging Applications in Ophthalmology',' Progress of Artificial Intelligence in Diabetic Retinopathy',' Artificial Intelligence in Retinal Disorder ',' Artificial Intelligence in Nanomedicin ' respectively.
The last speaker of this part was Dr. Hamidreza Bolhasani who elaborated on '5G Applications in Healthcare and Medical Sciences'.
ROBOTICS (Three Parts)
ROBOTICS: 1st Part - Ophthalmo-Robotics: An Evolving Horizon
This part of the program started by Dr. Seyed Farzad Mohammadi, lecturing about 'Translating Ocular Surgery into Engineering Concepts', and then Dr. Hamid D. Taghirad, explicated 'Robotic-Assisted Eye Surgery' for the audience.
ROBOTICS: 2nd part - ARASH-ASiST System for Vitreoretinal Surgery Training
This part was dedicated to the 'Vitreoretinal Surgical Training Challenges' and
'ARASH-ASiST: ARAS Haptic System for EYE Surgery Training' which were respectively presented by Mr. Hamid Riazi Esfahanai and Dr. Mohammad Motaharifar.
ROBOTICS: 3rd part – AI and VR in Eye Surgery Training System
At this part, Dr. Parisa Abdi went over the Complications of Cataract Surgery Training. Then, the next topic, which was covered by Dr. Alireza Norouzzadeh, was ' Eye Surgery Training Prospects: Toward VR Development'.
And finally, the last speech of this section was presented by Elham Ashrafi on ' Data Mining and AI in Surgery Skill Assessment'.
Image Processing: An Introductory Workshop/Course
The last panel of the seminar was a comprehensive introduction on ' Image Processing'.
In this part, Dr. Tahereh Mahmoudi presented the first topic entitled 'An overview of medical image processing and analysis'.
Dr. Mahmoudi presentation was followed by presentations of Mr. Elias Khalilipour on 'Introduction of Image by Elias Khalilipour', Dr. Zahra Amini on 'Image Enhancement and Denoising',  Dr. Raheleh Kafieh on 'Image Segmentation', Dr. Mahdad Esmaeili on 'Morphological Operations', Dr. Mahdad Esmaeili on 'Image Classification, and finally, this part was completed by the presentation of Dr. Tahereh Mahmoudi on 'Registration and Fusion.   
The audio and video file of this seminar is available at the following link:
http://en.tums.ac.ir/appraisetoraise/en/content/443/the-10th-seminar-of-translational-ophthalmology