TUMS COVID-19 page
Any one from all the nationalities could apply for studying in TUMS.
Join the Top Iranian University of Medical Science
Apply Now!
SEARCH YOUR DESIRED PROGRAM
Search Your Desired Program
More About Academics
TUMS in Numbers
More than
1,600
Faculty Members
More than
1000
International Students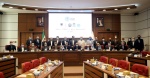 The meeting of the Chancellors and presidents of the member universities of the consortium of the top five universities in Iran (5TIUC) was held with the extension of the five-year memorandum of cooperation among the consortium members and the honoring of the leaders of these universities in the international arena.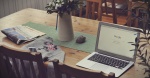 The TUMS School of Public Health and the National Institute for Health Research have released the answer to the question of " How to Distinguish Real Health-Related News and Information from Misinformation and Disinformation? "
In the presence of representatives of Farabi Hospital, Khajeh Nasir University of Technology and the University of Isfahan, a memorandum of understanding was signed to implement research and applied projects related to robotics and artificial intelligence applications in ophthalmology training at Farabi Hospital.