TUMS COVID-19 page
Any one from all the nationalities could apply for studying in TUMS.
Join the Top Iranian University of Medical Science
Apply Now!
SEARCH YOUR DESIRED PROGRAM
Search Your Desired Program
More About Academics
TUMS in Numbers
More than
1,600
Faculty Members
More than
1000
International Students
On Saturday, may 7th, 2022, a group of 5 students from "National University of Science and Technology, Muscat, Oman" came to the TUMS School of Pharmacy to take a 1-month hospital internship in clinical pharmacy department.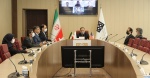 Tehran University of Medical Sciences (TUMS) and the International Islamic University of Malaysia (IIUM) signed a memorandum of understanding online to develop scientific, educational and research interactions.