A Two-Day Kick-off Event Between the Federal Institute for Risk Assessment in Germany (Bfr) and Members of the Department of Medical Nanotechnology at TUMS
A joint kick-off event between members of the German Federal Institute for Risk Assessment (BfR) and a number of faculty members of the Department of Medical Nanotechnology at the School of Advanced Technologies in Medicine was held on November 23rd and 24th virtually.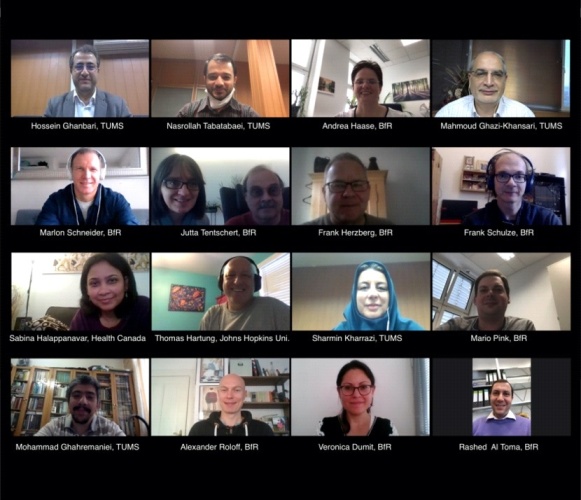 Funded by NIMAD, the event was the first among many planed in a two-year joint Germany-Iran project called NanoRiskSD. This event was conducted between the working group for evaluating biological assessment of nanomaterials in BfR, and some of the faculty members in the Department of Medical Nanotechnology.
This mobility project provides an opportunity for Iranian scientists to work closely with German colleagues and discuss on the type and model of their collaboration. Considering Iran's current high profile in the field of nanotechnology research in world rankings, the issue of safety is of particular interest.
According to Dr. Seyed Nasrollah Tabatabaei, the head of the Iranian team, in this initial kick-off meeting, participants discussed about their specific activities, experiences and capabilities in terms of assessment of nanomaterials. More specifically, novel and intelligent solutions for evaluating the toxicity of nanomaterials were presented and explored.
In summary, due to the great diversity of nanostructures in terms of shape, size, and composition, and their rapid progress and development, fast and economical assessment of their safety has always been of special interest. The aim of this project is to identify strengths and limitations in order to provide better solutions for analyzing nanomaterials.
Media Contact: Shirin Parsbar
Office of Vice-Dean for International Affairs, School of Advanced Technologies in Medicine