Mission & Goals
Mission
The Office of the Vice Dean for Research Affairs has a firm commitment to advancing the research enterprise of the TUMS Schools by providing input on research and research-related policy matters and acts in the framework of strategic research policies of IC-TUMS
The main mission of this office at IC-TUMS is to promote human health through the performance of the highest quality, ethically conducted, basic and clinical research which is carried out through the following means:
 Identification and consideration of research areas for development, especially in response to the national, regional and international demands and with respect to the establishment of centers and interdisciplinary programs.

 Identification of facilities and equipment needed for growth and development.

Provision and facilitation of research activities, encouraging individuals who are involved in research, provision of prerequisites such as references, facilitation of publications resulting from research and also the presentation in the conferences, improvement of scientific relationships at national, regional and Int. levels, supporting the research projects concluding to patent and scientific productions.

 Development of strategies for expanding activities in clinical and basic research.

 Establishment of a plan and guidelines to more actively participate in technology transfer.

 Screening and Identification of nominees for extramural funding opportunities with limited submission criteria.

 Promotion of research development, research compliance, and research administration.

 Working with universitywide offices, campus leaders, deans, and managers to increase and diversify research and creative works at IC-TUMS.

 Facilitation of ongoing research and creative activities, incubating new initiatives and maximizing the potential of the departments to accomplish path-breaking work.

Management and supervision of research projects.

Holding research, scientific writing courses, and workshops for facilitation and improvement of research projects.

Encouragement of Joint Research Projects among the Disciplines, Departments, Schools and Research Centers in TUMS at national, regional and Int. levels.

Facilitation of holding scientific congresses and seminars, and also facilitation of presentations resulting from Long-term Research Programs at prestigious Int. congresses.

 Advancing the realization of world-class research and creative activities that address important national and global needs.
Activity Areas
Research affairs at  undergraduate levels in Pardis Schools such as schools of Pharmacy,  Medicine, Dentistry  and  also MSc;

Research affairs at TUMS  with Focus on Postgraduate particularly Ph.D. at the TUMS Schools and Research Centers;

TUMS International Golden Grant (TIGG) that go to the Profs. with Noble Research Projects (elite academics and merit International Students).
Duties
The office of Vice Dean for Research Affairs is to create an optimal environment in which all the research affairs at IC-TUMS (Undergraduate & Postgraduate levels) are carried out and managed based on Long-term Research policies. In addition, this office is to ensure that the policies of IC-TUMS are carried out according to the Defined Research Policies of TUMS in order to achieve the specified short-term and long-term goals. We may summarize the duties of this office briefly in the following diagram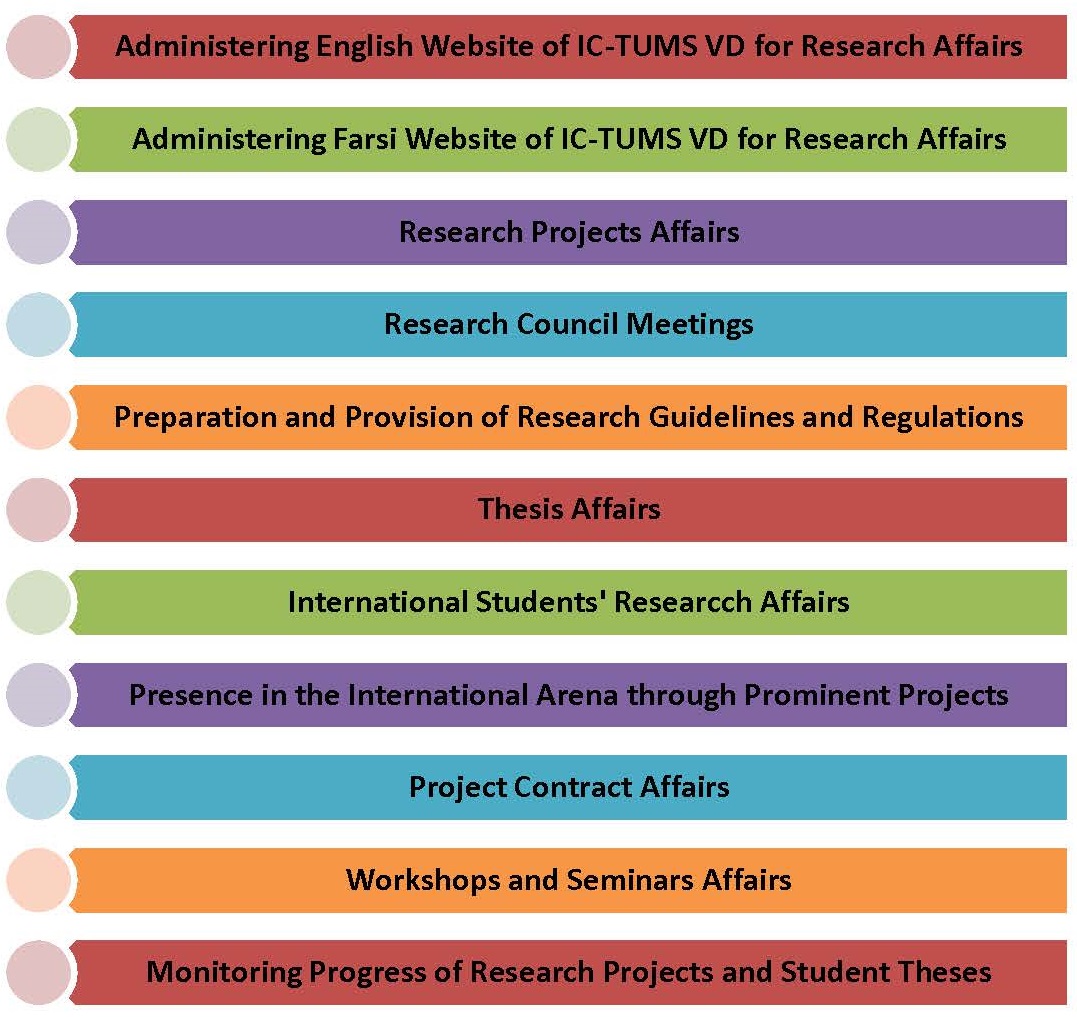 Goals
Requesting academic departments to define short-term and Particularly  Long-term Research programs based on national, regional and International  needs;

Persuasion of academic departments to define research projects/proposals  for Undergraduate and Postgraduate students based on Long-term Research Programs;

Management and coordination of research affairs in academic departments and research centers in accordance with the IC-TUMS guidelines;

Having up-to-date information about the academic departments and research centers based on the above guidelines through meetings with the department authorities and regular assessments;

Ensuring the quality of research (including qualified proposals, accurate timetable, right budget spending and other requirements) through monitoring and following up the students'  / department and research centers activities during different  phases according to IC-TUMS research guidelines;

Establishing collaboration agreements such as MOUs, Professor exchanges, Joint research projects in accordance with the research guidelines;

Providing research needs of the academic departments and research centers which have defined Long-term Research Programs;

Requesting academic departments  for submission of their specific admission plan/criteria based on departments'  Long-term Research Programs and profiles;

Persuasion of academic departments to offer TA (Teacher  Assistant) positions to the outstanding International students;

Visiting Academic Departments and meeting with their authorities;

Monitoring and following up on students' research progress during their research phase;

Planning to Assess Academic Departments and Research center in terms of their research equipment and apparatus;

Coordination with Departments to use talented and top international students as Teacher Assistants (TA);

Following up regarding establishing fellowship with accredited research centers.