Signing of a Memorandum of Understanding (MOU) among the Universities of Tehran, Tehran University of Medical Sciences and Shahid Beheshti University of Medical Sciences
Signing of a Memorandum of Understanding (MOU) among the Universities of Tehran, Tehran University of Medical Sciences and Shahid Beheshti University of Medical Sciences
The chancellors of Tehran University of Medical Sciences (TUMS), the University of Tehran (UT) and Shahid Beheshti University of Medical Sciences (SBMU) signed a Memorandum of Understanding on joint research and technology cooperation in order to develop scientific activities.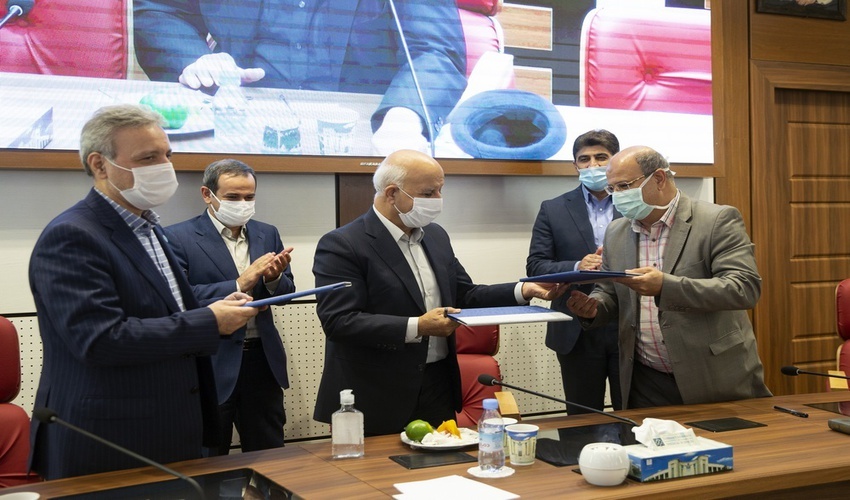 At the signing ceremony of the memorandum, which was hosted by TUMS, on Sep. 14 the chancellors/presidents of the three universities emphasized on the importance of scientific cooperation among themselves. They also expressed the hope that the expansion of scientific cooperation between these universities would bring positive results for these universities.
Dr. Karimi, the TUMS Chancellor, emphasizing that the joint work of the three universities should be done with full openness and without any restrictions, added "any words, criticisms and obstacles that will disrupt this cooperation; we must eliminate it, and this approach must also penetrate deep into the units that work together."
Then Dr. Nili Ahmadabadi, the President of UT, stated: "We are in dire need of cooperation with medical universities, and many works in the field of research and technology of the University of Tehran depend on cooperation with medical universities. We are happy that this cooperation has been formed now."
Dr. Alireza Zali. the Chancellor of SBMU, said: "The agreement can shape a new management model, and this cooperation and convergent management behaviors can be effective in creating an atmosphere of scientific vitality and freshness." He also described COVID-19 as an opportunity to eliminate redundant bureaucracies, and stated that COVID-19 had broken many of self-made, bureaucratic boundaries that prevented universities from making optimal use of each other's capacities.  
In this meeting, the officials of the three universities also emphasized that strengthening the relationship between the academic members of the three universities is necessary to strengthen this cooperation, and this agreement brings about the cooperation of the three universities in the coronavirus-related research and technologies.
It is worth mentioning that after the outbreak of coronavirus, regular meetings have been held among research working groups of these universities.