TUMS PANEL-2021WORLD HEALTH SUMMIT
پانل با محوریت مراقبت های بنیادین جراحی و تروما برای نیل به پوشش همگانی سلامت (PD20) در دوشنبه ۲۵ اکتبر ساعت ۱۷.۳۰-۱۹.۰۰
-PD 20 SAAL 2 | AMERICA 16:00–17:30UNIVERSAL HEALTH COVERAGE: A COMMITMENT TO ESSENTIAL SURGICAL, OBSTETRIC AND ANESTHESIA CARE-
نشست سالیانه مجمع جهانی سلامت (World Health Summit ) که بلند پایه ترین گردهمایی سالیانه سیاستگذاری در زمینه سلامت جهانی است، در بازه ۲۴-۲۶اکتبر ۲۰۲۱ مقارن دوم تا چهارم آبان ماه ۱۴۰۰با توجه به شرایط همه گیری کووید-۱۹ به طور هیبرید در برلین، پایتخت آلمان برگزار خواهد گردید. به توجه به عضویت دانشگاه علوم پزشکی تهران به عنوان تنها دانشگاه منطقه مدیترانه شرقی و شمال آفریقا در پیمان گروه هشت، که منبع علمی و آکادمیک مجمع جهانی سلامت به شمار می رود ،دانشگاه نیز با سخنرانی و حمایت از پانل با محوریت مراقبت های بنیادین جراحی و تروما برای نیل به پوشش همگانی سلامت (PD20) در دوشنبه ۲۵ اکتبر ساعت ۱۷.۳۰-۱۹.۰۰ به وقت اروپا توسط جناب آقای دکتر علی جعفریان در نشست حضور خواهند داشت.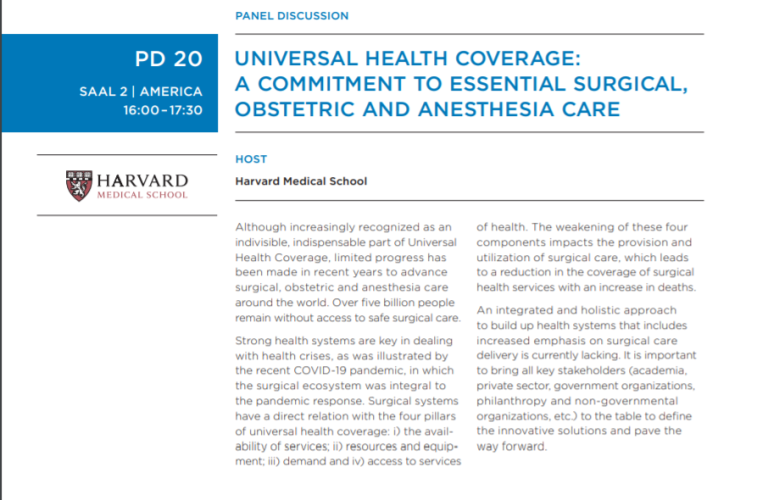 UNIVERSAL HEALTH COVERAGE: A COMMITMENT TO ESSENTIAL SURGICAL, OBSTETRIC AND ANESTHESIA CARE
Although increasingly recognized as an indivisible, indispensable part of Universal Health Coverage, limited progress has been made in recent years to advance surgical, obstetric and anesthesia care around the world. Over five billion people remain without access to safe surgical care. Strong health systems are key in dealing with health crises, as was illustrated by the recent COVID-19 pandemic, in which the surgical ecosystem was integral to the pandemic response. Surgical systems have a direct relation with the four pillars of universal health coverage: i) the availability of services; ii) resources and equipment; iii) demand and iv) access to services of health. The weakening of these four components impacts the provision and utilization of surgical care, which leads to a reduction in the coverage of surgical health services with an increase in deaths. An integrated and holistic approach to build up health systems that includes increased emphasis on surgical care delivery is currently lacking. It is important to bring all key stakeholders (academia, private sector, government organizations, philanthropy and non-governmental organizations, etc.) to the table to define the innovative solutions and pave the way forward.
CHAIRS
Kee B. Park
Harvard Medical School |
Program in Global Surgery and
Social Change |
Director of Policy and Advocacy |
United States of America
Tarsicio Uribe-Leitz
Harvard Medical School |
Program in Global Surgery and
Social Change | Center for Surgery
and Public Health | Instructor |
United States of America
SPEAKERS
Ali Jafarian
Tehran University of Medical Sciences
(TUMS) | Former Chancellor |
Iran