TUMS COVID-19 page
Any one from all the nationalities could apply for studying in TUMS.
Join the Top Iranian University of Medical Science
Apply Now!
SEARCH YOUR DESIRED PROGRAM
Search Your Desired Program
More About Academics
TUMS in Numbers
More than
1,600
Faculty Members
More than
1000
International Students
With the aim of expanding cooperation between TUMS and Tajik Science and Research Centers, Dr. Ramin Kordi, the TUMS Vice Chancellor for Global Strategies and International Affairs, met with Mr. Nizamuddin, the Tajik Ambassador to Iran.
Public Relations of TUMS is holding a photo contest titled "My University" on Instagram. The contest will start on April 20th, 2021, and will continue until May 9th, 2021.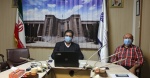 The first international diploma program in Iranian Medicine for maintaining health was hosted by TUMS in collaboration with the European Medical Association and the Swiss Center for Integrated Medicine.