A 5-day winter school was held virtually at TUMS School of Dentistry
Winter School of Dentistry 2021 was held at School of Dentistry of Tehran University of Medical Sciences, with the presence of distinguished academics in different fields of Dentistry and Dental Surgery.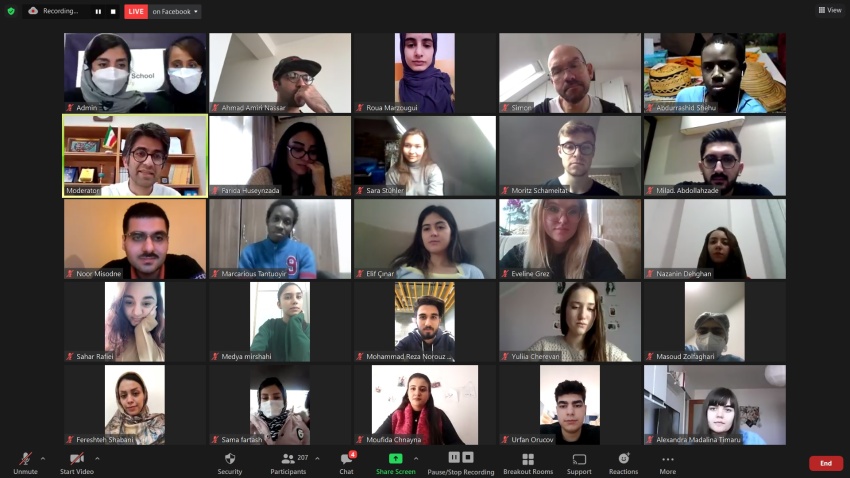 This program was conducted with cooperation of Appraise To Raise Team at TUMS Directorate of International Relations, from Saturday Feb. 13 to Wednesday Feb. 17, and contained 24 panels.
This winter school saw the presence of 10 keynote speakers and 42 lecturers from countries of UK, USA, Finland, Pakistan and Iran who gave engaging lectures for 44 hours, with the tremendous participation of 400 students of 24 countries.
A total of 408 people registered for this online event, of whom 167 non-Iranians from Turkey, Cyprus, Pakistan, Nigeria, Portugal, Germany, Tunisia, India, Ghana, Azerbaijan, Jordan, Lithuania, Nepal, Syria, Sudan, Ukraine, Iraq, Russia, Jamaica, Romania, the United States, the United Kingdom, Libya and the rest of the participants were Iranians.
The Opening ceremony of the aforementioned event was held with the presence of Dr. Amir Reza Rokan,Dean of School of Dentistry, at the Shahid Hedayat Amphitheater on February 13th 2021.In the beginning of the ceremony, Dr. Rokan while introducing the capabilities of the TUMS School of Dentistry in the international spectrum and the specialized courses, invited all participants to this event to take part and enjoy the scientific discussions.
Then Dr. Sara Pourshahidi, Deputy Director of General Dentistry, referring to the three sessions of the previous Summer School courses which were held in person at the School of Dentistry , stated: "I hope this program will be held as usual in the upcoming years."
The closing ceremony of this online event was held virtually on Wednesday, February 17th 2021.
In this ceremony Dr. Mohammad Hossein Nekoofar, Director of International Relations at Tehran University of Medical Sciences, Melika Zanganeh and Aylar Yousef Beigi, Student Committee secretaries and Dr. Pouyan Amini Shakib, Vice-dean  for International Affairs of TUMS School of Dentistry gave a speech.
In the beginning of this event Dr. Simon Whawell from the University of Sheffield of UK spoke about the role of basic sciences and their importance in dental education.
In the end, Dr. Amini Shakib gave his regards to the TUMS Vice-Chancellor for Global Strategies and International affairs ,to organizing committee and all the students who actively participated in this international event.