The International Webinar of "Simulation in the COVID-19 Era" Was Held
Specialized scientific webinar entitled "Simulation in the COVID-19 Era" was held on January 18th, 2021, with the participation of more than 90 people and under Appraise to Raise program.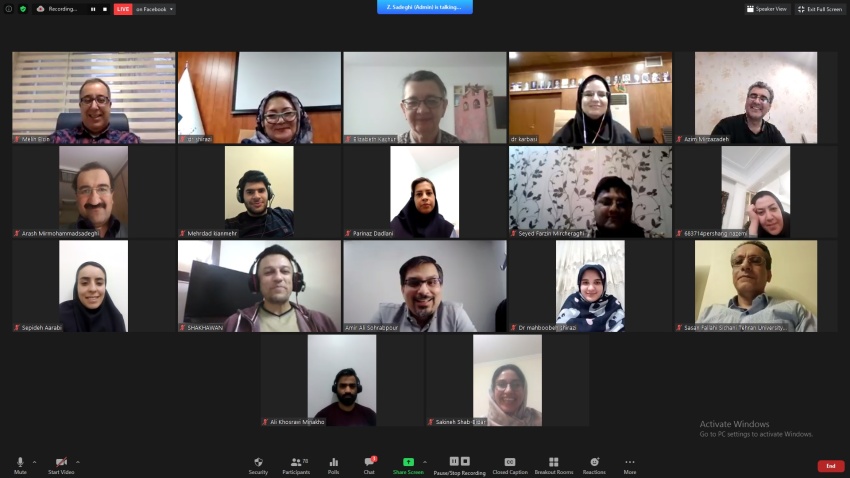 In this webinar, organized by Appraise to Raise program, Dr. Amir Ali Sohrabpour and Dr. Mandana Shirazi from TUMS, Dr. Elizabeth Krajic Kachur from Medical Education Development Center, New York, USA, Dr. Melih Elcin, a faculty member of Hacettepe Üniversitesi University and the President of the Turkish Association for Medical Education, gave their speech and shared with the audience the simulation experiences of these universities during COVID-19.
According to Dr. Mandana Shirazi, the Scientific Secretary of the Webinar, the main purpose of the webinar was to compare the simulation models of the three countries of Iran, Turkey and the United States, with the focus on the virtual simulation used in these three universities for education, evaluation, testing, and treatment during the Corona era. She also added that measures taken in all three countries has been based on the available budget and resources.

Based on the lectures presented in this webinar,
in the United States, the virtual simulation model is used, especially in the field of Objective Structured Clinical Examination (OSCE);

at Hacettepe University in Turkey, measures have been taken in this regard, and especially in the training part, packages have been designed, and in the evaluation part, simulation is used with the help of communication skills;

and at TUMS, simulation has been used mostly in the field of teaching; there are also guidelines for "Standard Patients", especially in the high-level assessment section, and the university has been able to use simulation to some extent, although there is still a long way to go to generalize the use of simulation at all levels and sections.
It is also worth noting that the 'Appraise to Raise' program is one of the new programs of the TUMS International Relations Office after the Corona epidemic, designed with the approach of developing virtual academic activities and gaining new experiences in the field of internationalization.
The audio and video file of this webinar is available at the following link:
http://en.tums.ac.ir/appraisetoraise/en/content/528/simulation-in-the-covid-19-era