TUMS Department of Medical Nanotechnology Signed A Memorandum of Understanding with A Joint Ukraine-Azarbaijan Research Center
Earlier this week during the 3rd Nanomedicine and Nanosafety Conference that started on Saturday January 25th, a Memorandum of Understanding (MoU) between Department of Medical Nanotechnology and a joint Ukraine-Azerbaijan Research Center was signed.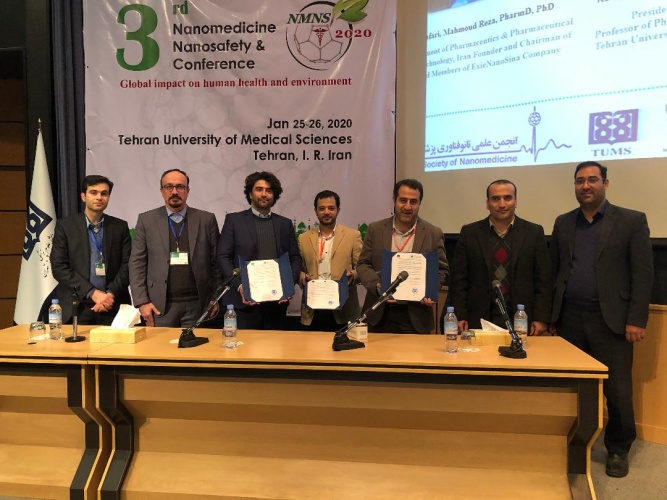 Earlier this week, during the 3rd biannual conference on Nanomedicine and Nanosafety (NMNS2020), which was held on 25th and 26th of January of 2020 at TUMS, an extensive Memorandum of Understanding (MOU) was signed between the Department of Medical Nanotechnology at School of Advanced Technologies in Medicine (SATiM), and the joint Ukraine-Azerbaijan International Research and Education Center of Nanobiotechnology and Functional Nanosystems.
"This agreement which covers educational, research, and technological collaborations has strategic importance for our development in the international community, and we hope that all parties involved can mutually benefit from the exchange of ideas, projects, and programs", said Dr. Hossein Ghanbari, Head of the Medical Nanotechnology Department.
At the signing event, which was organized by Dr. Tabatabaei, Vice-Dean of International Affairs at SATiM, Dr. Aziz Eftekhari from Maragheh University of Medical Sciences took the liberty to sign the MoU on behalf of Prof. Rovshan Khalilov, Director of the joint Ukraine-Azarbaijan Centre. During his Skype presentation for the conference, Prof. Khalilov explained that this agreement advances the theme of scientific collaborations between Azarbaijan, Ukraine, and Iran for a brighter future in medical field.
In this MoU, exchange of scholars and researchers, student, joint research projects and degree programs (at MSc and PhD levels) on medical nanotechnology, joint academic conferences, seminars, symposiums, congresses, workshops, study tours and summer schools, exchange of academic research data and teaching materials, and collaborations on health tourism are discussed.
The first phase of the MoU, which includes educational programs, is expected to begin in late spring 2020.