TUMS COVID-19 page
Any one from all the nationalities could apply for studying in TUMS.
Join the Top Iranian University of Medical Science
Apply Now!
SEARCH YOUR DESIRED PROGRAM
Search Your Desired Program
More About Academics
TUMS in Numbers
More than
1,600
Faculty Members
More than
1000
International Students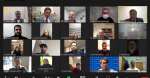 According to an agreement signed between TUMS and Asian Pacific Endodontic Confederation (APEC) on June 25th 2020, all the online journal clubs of APEC will be held and supported by TUMS. The first four sessions of the aforementioned event were held successfully with the presence of APEC authorities and under the supervision and support of Appraise To Raise Team.
An International TUMS Online Short Course on Head and Neck Lesions was held by the Department of Oral and Maxillofacial Pathology, with the presence of internationally well-known professors in February 2021.
The first session of the international online short course on Fundaments of Nursing Informatics, held by TUMS School of Nursing and Midwifery and with the cooperation of the Appraise-to-Raise team of the TUMS Directorate of International Relations, with the aim of fostering international professional development.