TUMS COVID-19 page
Any one from all the nationalities could apply for studying in TUMS.
Join the Top Iranian University of Medical Science
Apply Now!
SEARCH YOUR DESIRED PROGRAM
Search Your Desired Program
More About Academics
TUMS in Numbers
More than
1,600
Faculty Members
More than
750
International Students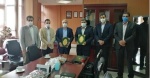 A Memorandum of Understanding was signed between the School of Advanced Technologies in Medicine and the African Health Development Center (in the Republic of Ghana) on cooperation in the field of medical nanotechnology.
Professor Amirhossein Takian, Chair of the Department of Global Health and Public Policy at TUMS and Professor Anja Krumeich of the University of Maastricht (UM) department of Health, Ethics and Society and, attended in a virtual interview on 23 July 2020. In the interview, the two academics discussed about the INPACT project and importance of establishing Global Health Study Programs in Iran.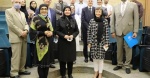 Australian Ambassador to Iran, Lyndall Sachs, praised the scientific achievements of the National Center for Addiction Studies and called for efforts to link Australian and Iranian research and academic centers in the field of addiction.