Meeting Between the Authorities of TUMS and Indian Embassy for Expanding Joint Educational Collaborations
Dr. Kordi, the TUMS Vice Chancellor for Global Strategies and International Affairs, met with Mr. Sanjay Rawat, the Second Secretary of the Indian Embassy in Iran, in order to expand joint educational collaborations between TUMS and educational institutes in India.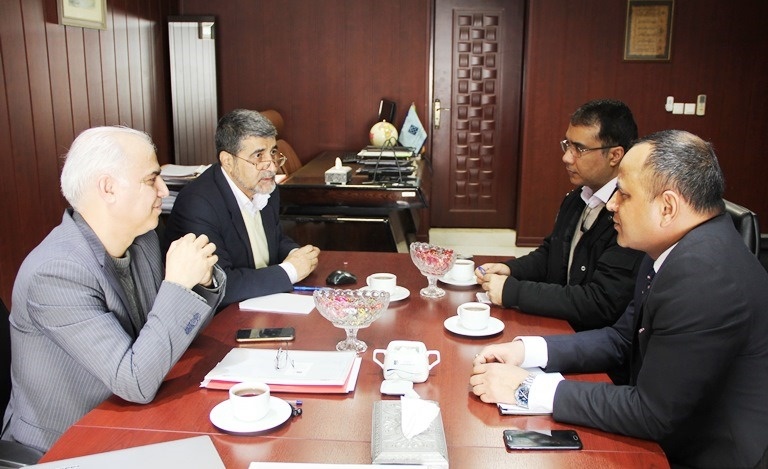 The meeting was held on Feb 2, 2020 at TUMS and various topics were discussed in this meeting. Beside Dr. Kordi and Mr. Sanjay Rawat, Dr. Vatandoost, a faculty member of the TUMS School of Public Health and Head of the Academic Collaborative Desk of Indian Universities was also present.
Dr. Kordi, initially, introduced TUMS and stated that TUMS complex is the oldest and top best Iranian university of medical sciences with 11 schools, 16 hospitals and more than one hundred research centers, and it has great infrastructure and facilities. Every year, the Iranian students who got top scores in the national entrance exams choose TUMS for study. Basically, TUMS admits international student based on a variety of criteria, including their level of knowledge and talent.
Dr. Kordi added that TUMS is ready to cooperate with Indian universities for the implementation of joint programs in many areas. It is also possible to apply for a variety of PhD programs and specialized courses in a variety of disciplines. Academics from India are also welcomed to visit TUMS and find out about the capacities of this medical university.
In the next part of the meeting, Dr. Vatandoost said that TUMS has 11 schools in different majors of medical sciences with great potential for mutual interaction. There are also 110 research centers of the university with significant research achievements, which, given the need and demand of Indian scientific centers, there is the opportunity to establish and execute joint research projects between TUMS and Indian scientific centers.
He added that TUMS, as one of the top universities in the region, has had successful experiences with the UN, the WHO and the FAO, and its results have been impressive. So, TUMS is ready to admit more Indian applicants and is willing to sign MoUs for joint collaborations with Indian institutes.

Mr. Sanjay Rawat, the Second Secretary of the Indian Embassy in Iran, appreciated the opportunity and pointed to the capabilities of Indian universities in the field of medical sciences.  He said in recent years, Indian students have chosen Iran to pursue education despite being able to travel to European countries and it is due to the high level of educational standard at TUMS, security of Iran and reasonable tuition fees.
At the end of the meeting, Dr. Kordi answered some of the raised questions, and also suggested a meeting to be held at TUMS between the Indian ambassador and TUMS Indian students to improve communication between Indian students and their country representatives in Iran.