Examining the Presence of SARS-CoV-2 (Causative Agent of COVID-19) In the Air of ICU Rooms of Hospitals
In order to respond to the question on conveyance of the new corona virus in air, a recent research was carried out by TUMS' Environmental Research Institute and School of Public Health to study the presence of SARS-CoV-2 (causative agent of COVID-19) in the air of the ICU rooms of Imam Khomeini Hospital in Tehran.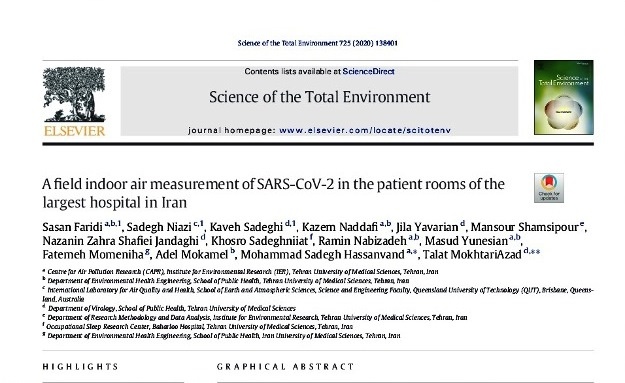 Dr. Mohammad Sadegh Hassanvand, the project manager and corresponding author of the article and director of the Air Pollution Research Center of the Environmental Research Institute of TUMS, stated in an interview that in order to provide scientific evidence on the transmission of coronavirus in the air, the researchers from the TUMS' Environmental Research Institute and School of Public Health conducted a research entitled "A field indoor air measurement of SARS-CoV-2 in the patient rooms of the largest hospital in Iran" in March 2020. The article of this research was published in April 2020 in the Science of the Total Environment Journal.
"Given the prevalence of COVID-19 in the world, one of the main questions that has occupied the minds of researchers is 'what are the ways of transmission of this virus?'.
In fact, given the evidence, some researchers believe that SARS-CoV-2 (the causative agent of COVID-19) is airborne while others disagree", he added. Dr. Hassanvand also stated that the research was the first study of its kind in Iran and one of the five studies in the world which tried to explain if this virus is transmitted through air or not.
He elaborated on the method used in this study and explained that standard air sampling equipment was installed at a distance of at least two to five meters from the bed of the COVID-19 patients and at a height of about one and a half meters from the floor, and then other side parameters such as the number of airborne particles, the degree of moisture and carbon dioxide were also measured.
"According to the results of this study, SARS-CoV-2 was not found in any of the air samples from the rooms of the patients, and the findings of this study were the same as the results of studies conducted in Singapore, Hong Kong, etc.", suggested Dr. Hassanvand. He concluded at the end of the interview that although the study did not show the causative agent of COVID-19 in any of the indoor air of the COVID-19 patients' rooms, given that limited evidence on this subject has been published in the world so far, it is very important to conduct further experimental studies on this topic.
It is worth noting that according to the existing evidence, reputable organizations around the world, such as the World Health Organization (WHO) and the US Centers for Disease Control and Prevention (US CDC) have not yet confirmed the virus's airborne nature.