TUMS 3-Day Symposium-Webinar on Internationalization of Higher Education During Coronavirus Crisis
A 3-day Symposium-Webinar on 'Internationalization of Higher Education During Coronavirus Crisis', which is planned on the initiative of the TUMS Directorate of International Relations, will be held on May 18-20, 2020.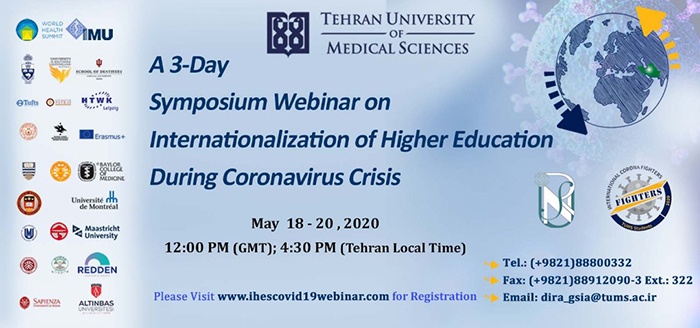 Dr. Mohammad Hossein Nekoofar, the TUMS Director of International Relations and Head of the symposium, announced that the main purpose of this symposium-webinar is to address the most important educational issues resulted following the outbreak and spread of the Coronavirus. He pointed out: "This Symposium-Webinar will be conducted in five panels and in three separate days. Each panel will be held for three hours and with five speakers and one panel director".
Dr. Nekoofar explained that the main focus of the first panel will be on internationalization of higher education policy shift during the Corona and post-Corona eras (new normal conditions or coexistence with corona); the challenges and opportunities of e-Learning in the Coronavirus crisis for professors and students are the subject of the second panel of this symposium-webinar; and finally, the third day's panel includes three simultaneous panels focusing on the educational challenges of the medical, dental and health related fields and other fields of medical sciences in post-Corona and the new normal conditions.
He also announced the participation and cooperation of 33 world-renowned speakers from 25 universities and institutes of Iran and 15 countries who have scientific authority in the field of International Higher Education.
The international speakers of this seminar will be from Iran, Canada, Spain, Australia, the Czech Republic, Greece, Malaysia, Thailand, China, Finland, Germany, the United States, Hong Kong, Italy, Tanzania and the Netherlands.
According to Dr. Nekoofar, some of these speakers were active participants of the International Higher Education Seminar (IHE Seminar), which was held in 2017 by this directorate, and others have been cooperating with the university as partners or invited international professors, and this indicates the strong infrastructure of international network in the departments under the TUMS Vice Chancellor for Global Strategies and international Affairs.
The symposium will be held at 12:00 PM (GTM)/4:30 PM (Tehran Local Time) on May 18-20, 2020 through the ZOOM application at the Dar-ul-Fonun Hall of the TUMS' headquarters as the main hub.