The Nigerian Student in Tehran University of Medical Sciences described the presence of Iranian students in the exhibition noticeable.
Mohammad Sani Shoaybo, The international student in TUMS talked about the opportunity of communicating with Non-Medical International students in the International Festival and described it as one of its Strength compared to last years.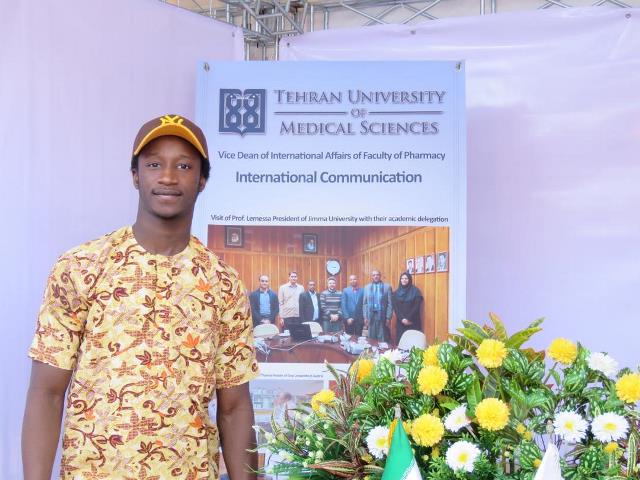 This Nigerian student in a brief talk with the Public Relations Department of the Deputy of International Affairs, stated that: "Before coming to Iran I had no vision about educating in this country but now, after two years I'm very pleased with my decision."
He emphasized that learning about Persian culture for him as an International student was hard and pointed that fortunately, communication with Iranian students and interaction with them make this process a lot easier for him.
He talked about the International Festival and stated that: " This event is a great opportunity to meet International students from different majors which most of the times because of the busy schedule during the year is not possible." Also he mentioned that getting to know about other cultures, traditions and food is so great about this event.
He mentioned the good acceptance of Nigerian food and drinks from Iranian students in the booth and explained that: "Fortunately, The taste of people in the two countries is close to each other."
Mohammad Sani Shoaybo talked about the opportunity of meeting with Non-Medical Students because of TUMS cooperation with University of Tehran and hoped that this event is a path to new friendships and there will be future meetings with these students.
He talked about the quality of education in TUMS: " in these three semesters I never had a major problem with the university and even if there was a little obstacle, it was handled with the help of university's authorities."