The closing ceremony of the TUMS-UT International Festival took place on April 24, 2019, in TUMS Main Hall.
At the end of a 3_day festival, Tehran University of Medical Sciences(TUMS) and University of Tehran(UT) international students alongside high ranking authorities of both universities and guests from foreign embassies held the closing ceremony.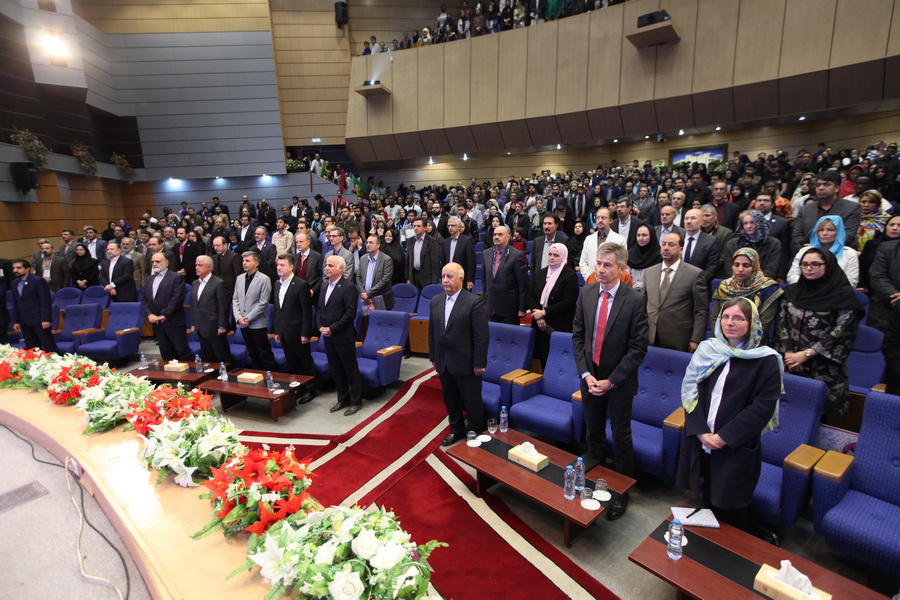 Dr. Karimi, Chancellor of Tehran University of Medical Sciences, welcomed the guests: "This is one of the best days of TUMS and UT. I've been a student in tums. It's showing the great capacity of these two great universities with more than 170years history."
He stated: "It's a great pleasure that these two universities cooperate in holding this event. It depicts the great opportunities internationalization of higher education in Iran and especially in TUMS and UT."
The Swiss ambassador in Iran also talked briefly about the presence of his country in the International Festival. "We believe scientific cooperation is the key of good interaction between two countries. Therefore, Swiss as an innovative country is ready to broaden its academic collaboration with TUMS and UT."
He added: "A group of faculty members planned to visit Swiss, which is going to be a great opportunity to discuss further collaborations."
"What is going to be important to us in this collaboration is mutual interaction and not rivalry." He said.
Dr. Nili Ahmadabadi, the Chancellor of University of Tehran described the cooperation with TUMS a great experience and stated that: "This cooperation proved that these two universities are parts of a single treasury and international students belong to both of them."
He pointed out that: "Indeed, the best solution to peace to all the world is scientific collaboration. I hope this festival would be the beginning of stronger cooperation between two universities to prepare the infrastructures for Health diplomacy and internationalization of higher education."
International students performed live music and theater in English and Persian and showcased their abilities not only in education but in art and cultural activities.
At the end of the ceremony, elite international students and faculty members were awarded by chancellors and vice-chancellors of two universities.
From TUMS Dr. Arman Zargaran, Dr. Mostafa Moin, Dr. Seyed Mahdi Rezayat Sorkhabadi, Dr. Reza Saber, Dr. Said Sarkar, Dr. Talat Mokhtari Azad, Dr. Amir Hossein Takian, Dr. Farshad Farzadfar, Dr. Mohamadali Mansoornia, Dr. Mohamad Hosein Nekoofar, Dr. Mohamad Abdollahi, Dr. Sakine Shabbidar, Dr. Nima Rezaai, Dr. Simin Zahra Mohebbi, and Dr. Sasan Moghimi Araghi were introduced as elite faculty members.
Also, Fazlollah Khan, Frank Kiwanuka, Shimles Hossein Mohamad, Mohamad Aljasem, Seyed Abdolghafoor Saidi, Boshra Adam Sabie, Flake Dobre Agide, Zeyd Jabulani, Fateme Ostad Khalil, Heidar Mohamad Ali Naser, Maftao Fasini, Amene Yaghoob Zade, Alireza Milajerdi, and Masoome Gholami were TUMS Elite Students.