The World Health Summit 2020 Will Be Held Virtually with the Presence of Representatives of TUMS
Dr. Amirhossein Takian, Vice Dean for International Affairs of the TUMS School of Public Health, and the secretary of the M8 Alliance, announced the holding of the World Health Summit 2020 in a virtual format with the participation of representatives of TUMS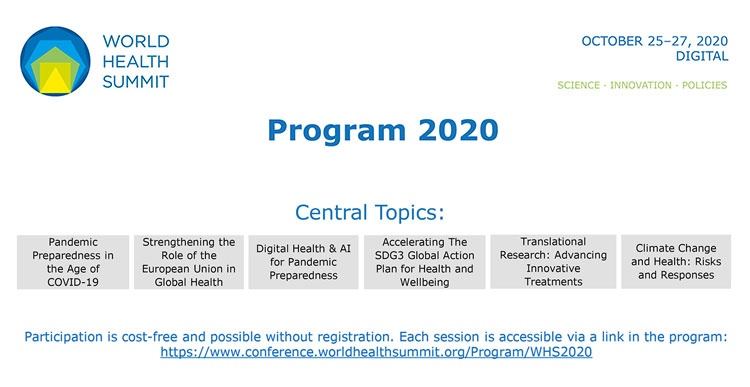 The summit will be held on October 25-27, 2020, as the highest annual meeting on global health policymaking. Dr. Takian, the secretary of the M8 Alliance, cited the spread of the coronavirus in the world as the main reason for holding this great international event in virtual format, and stated: "The expansion of COVID-19 reminded everyone of the importance of improving global health, which is why holding the World Health summit as a network of universities, the private sectors, civil and political societies will be more necessary than ever."
He pointed out that TUMS, the only university from the East Mediterranean and North African region being a member of the M8 Alliance, will participate in the summit. Dr. Takian added: "I, along with Dr. Ali Jafarian, the university's full-fledged representative, will attend the meeting with presenting two lectures, chairing two panels and supporting one panel, focusing on national experiences in the face of COVID-19 (PD10) and basic surgical and trauma care (PD19).
He stated: "Holding 50 specialized meetings and the participation of 300 speakers and more than 3,000 participants from 100 countries has excelled the annual World Health Summit, whose seventh regional meeting was hosted by TUMS in May 2019."
Dr. Takian emphasized that pandemic preparedness in the COVID-19 era, strengthening the EU's role in global health, digital health and artificial intelligence in pandemic preparedness, accelerating the SDG3 global action plan for health and well-being, applied research, advances in innovative displays and climate change, health and hazards & responses will be the focal points of this program.
It should be noted that the meeting is scheduled for three days, from 9 a.m. to 5:30 p.m. CET, and participation in all sessions is free. Also, the lectures will be available to everyone through the website of the World Health Summit or a link.
Click here to view the World Health Summit's annual meeting schedule.