The 11th World Health Summit Was Held Virtually with the Participation of Representatives from TUMS
The 11th World Health Summit and the annual meeting of the M8 alliance was held virtually with the participation of representatives from TUMS.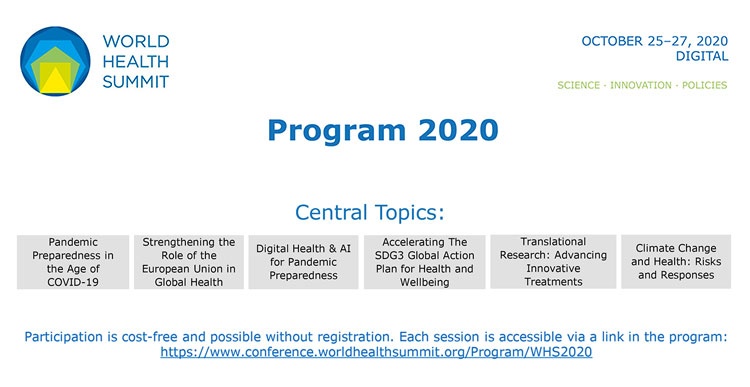 The annual meeting of the Group of Eight was held on Wednesday, October 21, 2020, with the participation of 28 member universities and hosted by the Charité University of Berlin, and Dr. Ali Jafarian, the TUMS full-fledged representative and head of the hepatobiliary surgery and liver transplantation at Imam Khomeini Hospital,  and Dr. Amirhossein Takian, the secretary of the M8 Alliance attended in the event.
In the meeting, the membership of the World Health Center of the American University of Beirut and the United Nations University in the M8 Alliance as new members was approved, and the number of the M8 Alliance members (universities, institutes of higher education and academies) from five continents reached thirty.
Also, at the 11th World Health Summit, which was held from 25 to 27 October with the free participation of enthusiasts, 300 speakers including ministers, heads of international organizations such as the World Health Organization, UN Secretary General, President of Germany, President of the European Commission and many prominent health system experts from 100 countries expressed their views and opinions in 50 specialized panels.
These lectures focused on pandemic preparedness in the COVID-19 era, strengthening global cooperation and the role of the World Health Organization in dealing with pandemics, digital health and artificial intelligence for pandemic preparedness, accelerating the SDG3 global action plan for health and well-being, research application, advances in innovative display, climate change & health, and risks & responses.
During the second day of the meeting and in the panel "National Responses to COVID-19", chaired by Dr. Amirhossein Takian (Professor and head of the Department of Global Health and Public Policy at the TUMS School of Public Health), representatives from the United States, Hong Kong, Britain, Taiwan and the Islamic Republic of Iran And the former head of the World Health Organization shared their experiences of fighting Covid-19.
In another panel held on the same day entitled "Essential Surgeries in Primary Health Care Services" with the presence of Dr. Ali Jafarian, the experiences of some countries such as Iran, Pakistan, the United Kingdom, and Fiji, in relation to the World Health Organization resolution on the essentials of surgery and trauma care in primary health care were discussed.
It should be noted that TUMS as the only university from the East Mediterranean and North African region being a member of the M8 Alliance, participates in the summit, and it held the seventh regional meeting of the World Health Summit in the Kish Island in 2019 with the participation of more than 700 people from 48 countries.