Meeting Between the TUMS Vice Chancellor for Global Strategies & International Affairs and the Tajik Ambassador to Iran in Order to Develop Cooperation with Tajik Scientific and Academic Centers
With the aim of expanding cooperation between TUMS and Tajik Science and Research Centers, Dr. Ramin Kordi, the TUMS Vice Chancellor for Global Strategies and International Affairs, met with Mr. Nizamuddin, the Tajik Ambassador to Iran.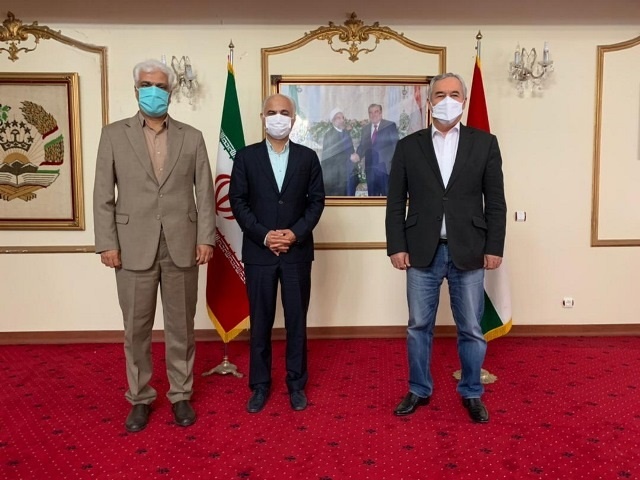 The meeting, which was held on May 4th, 2021, at the Tajik Embassy in Tehran, was also attended by Dr. Gholamreza Hassanpour, Head of Desk for International Cooperation between TUMS and Tajikistan. At the beginning of the meeting, Dr. Kordi explained the background of TUMS and introduced its faculties, research centers and teaching hospitals.
 Referring to the role and position of the university in the country and the region, he said: "The number of joint articles by professors and faculty members with international researchers has grown in recent years and despite the COVID-19 pandemic, TUMS has been successful in attracting and admitting international students." Dr. Kordi added: TUMS is ranked 501-600 in most international ranking systems such as Times, Shanghai and QS.
He also explicated the TUMS's policy of awarding scholarships to internationally selected applicants and said: "The top candidates in the national entrance exam in Afghanistan are currently receiving scholarships at TUMS, and this model can be applied to Tajikistan as well."
Dr. Kordi also announced the TUMS readiness to develop collaboration with Tajikistan's scientific and academic centers in educational, research and treatment subjects stating: "It is possible to provide Tajik doctors with the opportunity to study in specialized courses, as well as to hold online workshops in agreed areas."
In the final part of the meeting, the Ambassador of Tajikistan expressed his satisfaction with the meeting and the interest of his country and Tajik universities in developing scientific exchanges and admission of Tajik students to TUMS and called for speeding up the process.