A Monograph of Lessons Learned and Experiences of Corona-Related Initiatives in Iranian Nursing Published by the International Society for Telemedicine and eHealth (ISfTeH)
Dr. Asieh Darvish, a member of the TUMS School of Nursing and Midwifery and a member of the Tele-Nursing Working Group of the International Association of Telemedicine and Electronic Health (ISfTeH), spoke about the Corona-related nursing experiences in Iran in a monograph published by the ISfTeH.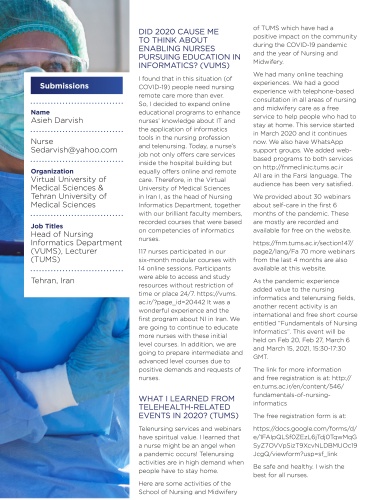 In this monograph, Dr. Asieh Darvish, while pointing out that distance nursing services and self-care webinars have a spiritual value, said: "From the events of 2020, I realized that nurses can be like an angel when an epidemic breaks out! Tele-nursing activities are in high demand when people have to stay at home".
Regarding the lessons learned in the face of this global epidemic, Dr. Darvish elaborated on the basic modular course of nursing informatics at the Virtual University of Medical Sciences and its importance as well as the developmental activities of nursing informatics at TUMS School of Nursing and Midwifery, including webinars and remote nursing and midwifery consultations on self-care. She also noted the importance of holding an international online nursing informatics course and the necessity of these activities during the Covid-19 pandemic.
In a part of this monograph we read:
 "DID 2020 CAUSE ME TO THINK ABOUT ENABLING NURSES PURSUING EDUCATION IN INFORMATICS?
I found that in this situation (of COVID-19) people need nursing remote care more than ever. So, I decided to expand online educational programs to enhance nurses' knowledge about IT and the application of informatics tools in the nursing profession and telenursing. Today, a nurse's job not only offers care services inside the hospital building but equally offers online and remote care. Therefore, in the Virtual University of Medical Sciences in Iran I, as the head of Nursing Informatics Department, together with our brilliant faculty members, we recorded courses that were based on competencies of informatics nurses. 117 nurses participated in our six-month modular courses with 14 online sessions. Participants were able to access and study resources without restriction of time or place 24/7. It was a wonderful experience and the first program about NI in Iran. We are going to continue to educate more nurses with these initial level courses. In addition, we are going to prepare intermediate and advanced level courses due to positive demands and requests of nurses."
In honor of nurses and midwives for their outstanding contributions to patient care, International Society for Telemedicine and eHealth (ISfTeH) and International SOS have published a series entitled "2020 Retrospective Year of the Nurse Midwife Publication" in March 2021.
To download a copy of the '2020 Retrospective: Year of the Nurse & Midwife', click here.