The International Florence Nightingale Medal Awarded to Dr. Seyed Naser Emadi, An Academic Member of TUMS
Dr. Seyed Naser Emadi, a faculty member of Razi Hospital's Dermatology Department, received the "Florence Nightingale" Medal for being a member of the team of Doctors Without Borders in Africa and the Middle East.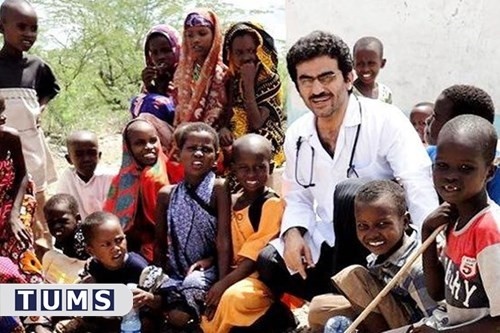 Dr. Emadi was awarded the Florence Nightingale World Medal for his membership in the team of Doctors Without Borders (Médecins Sans Frontières) in Africa and the Middle East and his work in helping war and natural disaster victims, as well as people's health and training of nurses.
Since 1912, the Florence Nightingale Medal Commission, which is composed of the International Federation of Red Cross and Red Crescent Societies, the International Committee of the Red Cross and the International Councils of Physicians and Nurses, has awarded this medal of honor every two years to the eligible people.
The medal is given to the individuals who, with their courage and self-sacrifice, have rendered services and practical activities for the benefit of the wounded, sick or other victims of disasters and wars, or have taken innovative steps to improve the quality of treatment and education.
Regarding how to receive the medal, Dr. Emadi said: "I may go to Geneva from Africa to receive the medal after the corona pandemic subsides, or I may request that the medal be sent to the Red Crescent Society in Iran."
Dr. Emadi, who studied dermatology at TUMS, is currently an academic member and associate professor at TUMS, and has worked as a volunteer physician in several countries such as Iran, Iraq, Kenya, Tanzania, Somalia, Ghana, Nigeria, Burundi, South Africa, Zimbabwe and Afghanistan.
It is worth noting that Dr. Emadi was selected as one of the most self-sacrificing physicians in the country on the National Physician's Day in 2015 due to the provision of medical services in deprived areas of Iran and also to the refugees of the ISIL attack in Iraqi Kurdistan.
Finally, after two decades of humanitarian activities, this Iranian member of Doctors Without Borders, a veteran and injured servicemen during the Iran-Iraq war, and an academic member of TUMS was recognized in the eyes of the world as the best messenger of peace, friendship and self-sacrifice in the world in 2021.