Farabi Hospital Taking Steps to Develop Robotic Technologies and Artificial Intelligence in Ophthalmology Education; Signing an MoU Between Farabi Hospital and Khajeh Nasir University of Technology and University of Isfahan
In the presence of representatives of Farabi Hospital, Khajeh Nasir University of Technology and the University of Isfahan, a memorandum of understanding was signed to implement research and applied projects related to robotics and artificial intelligence applications in ophthalmology training at Farabi Hospital.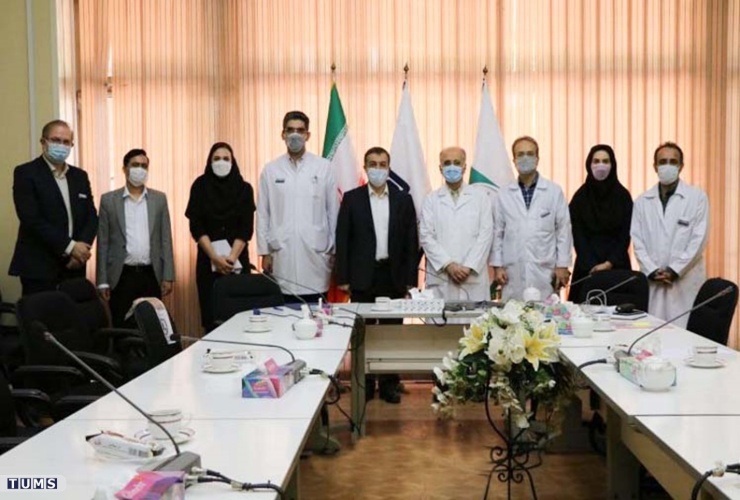 The signing ceremony of the Memorandum of Understanding for the implementation of research and applied projects related to robotics and artificial intelligence was held in the presence of Dr. Akbari, Director of Farabi Hospital, Dr. Mohammadi, Director of the TUMS Translational Ophthalmology Research Center, Dr. Taghi Rad, Head of Aras Robotics Department and professor of Khajeh Nasir University of Technology and Dr. Motahari Far, faculty member of the University of Isfahan on 31 May 2021, at Farabi Hospital.
At the beginning of the meeting, Dr. Akbari expressed his satisfaction with the holding of this joint meeting and pointed to the relationship between industry and medicine and said: "We welcome the relationship between industry, ophthalmology and the clinic." To achieve the desired result, we should not only consider distant horizons; if we want to make a change, it is better to take small and fruitful steps and this needs the cooperation of all experts involved."
Referring to the ophthalmology training robot, Dr. Mohammadi said: "To build an educational robot in the field of ophthalmology, one of the measures that can be effective is to set up an interdisciplinary laboratory that focuses on education and artificial intelligence and robotics. This requires the development of the infrastructure, and we have held the necessary meetings and follow-ups in this regard."

He considered the development of robotics and artificial intelligence in the field of medical education as an important matter due to the increasing progress of technology and added: "Our view on this category is a practical view that is first developed, then commercialized and finally applied. In fact, our view is an economic and employment view in the discussion of clinical application. He also explained the creation of a database as one of the goals of the project."
Then, Dr. Taghi Rad explained the use of artificial intelligence in medicine and said: "For us, the use of technical and engineering materials and artificial intelligence in the field of medicine is very valuable. In fact, it creates a common language and mutual knowledge between medicine and engineering. What we are interested in doing is developing this knowledge in clinical work, and for this purpose we are following up and taking the necessary measures to transfer laboratory equipment from Khajeh Nasir University to Farabi Hospital."
He continued: "Two samples of robots known as diamonds were made for vitrectomy surgery. We really need time, attention and focus in this field and we see the future horizon as a turning point which will be further developed with our efforts and interactions and the result will be the introduction of robotic equipment into the medical field."
The meeting was concluded with the comments and suggestions of Dr. Rajabi, Dr. Riazi, Dr. Moradi and a group of faculty members of the Department of Ophthalmology.