Interview with the First Liberian Alumni in Nursing (BSc)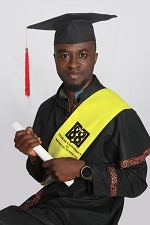 Please introduce yourself with your major and level of studies here at TUMS?
My name is Harris Tokpah, a Liberian and a BSc candidate of Tehran University of Medical Sciences, School of Nursing and Midwifery
What made you come to Iran in order to continue your career? And how was TUMS on your first impression? How is TUMS in reality now?
What makes me come to Iran was my quest to have international education experience and to experience a new culture.
TUMS on my first impression was like "WOW", I'm going to have a great international experience here and have some great networking, but things were different from reality. TUMS in reality is so much focused on the educational aspect of the students and ignores the social wellbeing (eg. intellectual development, networking, etc.)
Why did you choose this field?
I chose Nursing due to my passion to help my community
Apart from your studies, tell us about your experience in using

university

facilities like the laboratory and library. What other facilities were you waiting for during your studies?
My experience in using the University facilities like the laboratory and library was great. I could see and have first-hand experience with some of the laboratory samples and I could literally get whatever information I was looking for due to TUMS's vast library (both digital and physical).
Do you have any

plan(s)

to pursue your education in Iran? Why? Why not?
No. I want to stay in my country or try another country to continue my career development.
If you are eager to study at TUMS, which major you like to study?  And with which condition you prefer to come?
If I would study at TUMS again, I would study Public health under the following conditions:
Good professors who are better at English

on 100% scholarships

Employment opportunities for students, and

Better social conditions for international students
What is your current position in your country?
Not yet. Need to get my license before starting work
If you were TUMS Dean, what would you do for international students?
If I were the Dean at TUMS, I would do the following for international students
Employment opportunities for students

Better social conditions for international students (e.g. Social clubs, sports tournament among international students, etc.)

Organize exchange programs with other countries' universities, and

Offer better comprehensive scholarships opportunities for international students
Do you have any message for TUMS family (authorities, professors,

staff,,

and students) before leaving the country?
To TUMS authorities: Thanks for the opportunity afforded me to study at your noble institution. It was a great experience, but I could love TUMS to have more English professors due to the challenging nature of studying medicine/medical sciences. Studying medicine in English is challenging and what more about studying it in a foreign language? It is more challenging and many students might not get a solid foundation.
To my hard-working professors: Thanks for the knowledge you have passed down and continue to pass down to us. Continue the hard work and keep inspiring more future leaders, doctors, nurses, etc to make the world a better place for all humankind.
To TUMS staff: Thanks for the good work and the assistance you offer to students. Continue the good work to make TUMS a better place for every student.
To my fellow students: Ignore the pain for a little while and focus on your studies that we will be able to return home to contribute to our country development and help improve lives.