Extension of the Five-Year Cooperation Memorandum of Understanding of the Consortium of the Top Five Universities in Iran (5TIUC)
The meeting of the Chancellors and presidents of the member universities of the consortium of the top five universities in Iran (5TIUC) was held with the extension of the five-year memorandum of cooperation among the consortium members and the honoring of the leaders of these universities in the international arena.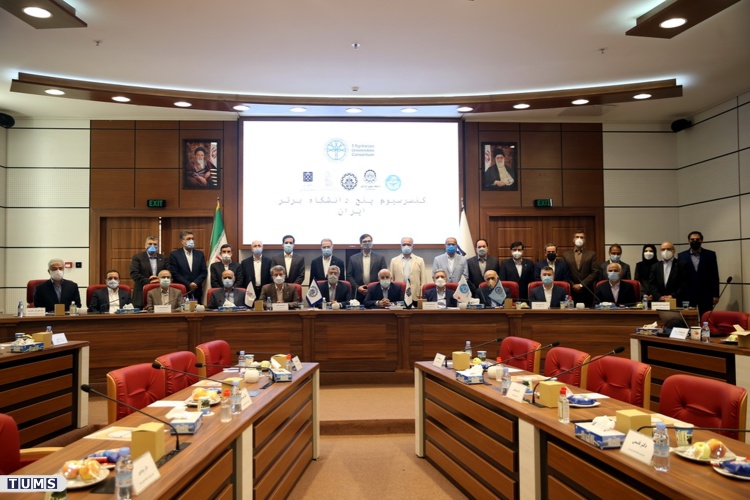 In this meeting, which was held on July 15, 2021 at the Dar-Ol-Fonun Hall of TUMS Headquarters, Dr. Ali Akbar Haghdoost, Deputy Minister of Health and Medical Education, as well as authorities of Tehran University of Medical Sciences, Iran University of Medical Sciences, Sharif University of Technology, Amirkabir University of Technology, University of Tehran and the heads of the International Campuses of these universities were also present.
In this meeting, the officials of these universities, in their speeches, pointed out the importance of the role of this consortium in the scientific cooperation of its members in the international arena.
More than five years ago, the above-mentioned universities were selected by the University of Santiago de Compostela in Spain to participate in the EU Erasmus project. Subsequently, the representatives of these universities agreed to form a consortium of the top five Iranian universities with a joint international cooperation approach and signed a cooperation memorandum of understanding (MoU) in 2016.
In this year's meeting, this agreement was extended for another 5 years, and TUMS was elected as the consortium coordinator for 2 years, and Dr. Nekoofar, Director of International Relations of TUMS, was appointed as the consortium secretary.