Interview with TUMS Alumni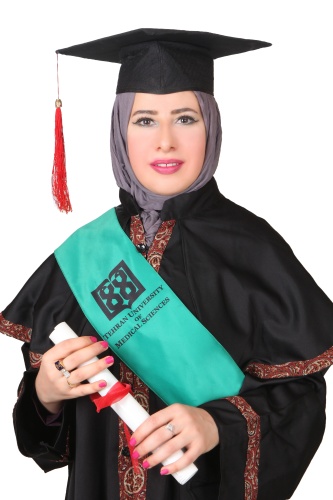 Please introduce yourself with your major and level of studies here at TUMS?
My name is Noor Khamees Hamad, I am a student of M.Sc. Optometry, fifth level.
What made you to come to Iran in order to continue your career? And how was TUMS on your first impression? How is TUMS in reality now?
I came to Tehran because first; it's the nearest country to Iraq, second; the high rank of TUMS with other universities in Iran and Malaysia that contain my field. My first impression of TUMS was its high development system. In reality I found some complications in some issues such as exited and reentry procedures.
Why did you choose this field?
It was the most elegant department and I could make the people to see better by improving their vision, I make their smile.
Apart from your studies, tell us about your experience in using university's facilities like laboratory and library. What other facilities were you waiting for during your studies? 
It was very easy to use library and the clinical tools in the hospital, all stuff were cooperation with us. I hope in future developing the Optometry department in the college.
Do you have any plan to pursue your education in Iran? Why? Why not?
Maybe I will choose Tehran to continue my education.
If you are eager to study at TUMS, which major you like to study?  And with which condition you prefer to come?
I will choose the same field Optometry.
What is your current position in your country?
I am optometrist in AL-Nu'man teaching hospital.
If you were TUMS Dean, what would you do for international students?
I made a discount for international students.
Do you have any message for TUMS family (authorities, professors, staffs and students) before leaving the country?
My message to some professors (be fair with students when giving the scores, deal with them according to each person's knowledge and personality), to the students (improve your language before applying to the university), to the stuff (thanks for your kindness).