Interview with the First Alumnus in M.B.B.S Major
Congratulation to TUMS First Alumnus in M.B.B.S from Ghana
Lindo Bidoo is the First Ghanaian Alumnus in M.B.B.S. Bachelor of Medicine and Bachelor of Surgery (M.B.B.S.) is a first professional degree in medicine and surgery. A person holding the MBBS degree becomes a certified medical practitioner.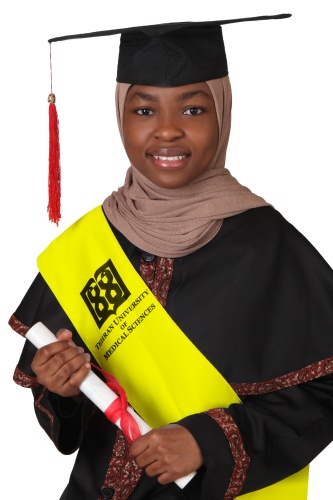 Please introduce yourself with your major and level of studies here at TUMS?
Am Linda Baidoo and a Medical Student. Currently am in my 11th semester.
What made you to come to Iran in order to continue your career? And how was TUMS on your first impression? How is TUMS in reality now?
Because I knew someone here who was from my country (Ghana) and he recommended this university to me. At my first impression TUMS was really the best and helpful to students. As at now the quality at which the university relates with the students is very poor especially in both the academic and dormitory areas
Why did you choose this field?
From my childhood l had an interest to study medicine.
Apart from your studies, tell us about your experience in using university's facilities like laboratory and library. What other facilities were you waiting for during your studies? 
The library has so far been renovated which is very good. As at now there's no lift in the current dorm we are in now. (Ahmadi dorm) and putting 10 people in one apartment is very overpopulated especially in this Corona period.
Do you have any plan to pursue your education in Iran? Why? Why not?
I don't have any plans to continue my education in Iran yet because of the language barrier.
If you are eager to study at TUMS, which major you like to study?  And with which condition you prefer to come?
I would like to specialize in neurosurgery if they will give me a 100% scholarship for the dormitory and academic.
What is your current position in your country?
Am a graduate from medical school.
If you were TUMS Dean, what would you do for international students?
I would organize free trips for international students. I would increase their scholarship. I would provide jobs for international students. I will see to it that every student is comfortable both academically and psychologically.
Do you have any message for TUMS family (authorities, professors, staffs and students) before leaving the country?
They should reduce the stress they pose on students especially with tuition fees, dormitory fees, marks of various courses.