Endocrinology and Metabolism Research Institute
Brief Overview
The Endocrinology and Metabolism Research Institute was established in 1993 as the Endocrinology and Metabolism Research Centre of Tehran University of Medical Sciences on Dr. Shariati University Hospital Campus in Tehran. The primary goal of the centre was to lay the foundation for a multi disciplinary research complex, encompassing both clinical and experimental basic medical sciences aspects of endocrinology and metabolism with a focus on diabetes and osteoporosis. As a result of its outstanding performance, the Endocrinology and Metabolism Research Centre (EMRC) was promoted to the Endocrinology and Metabolism Research Institute (EMRI) by the Ministry of Health and Medical Education of the Islamic Republic of Iran in 2010.
Introduction
Endocrinology and Metabolism Research Institute (EMRI) began its research activities on a very small scale at the endocrinology ward of a teaching hospital affiliated to Tehran University of Medical Sciences in 1993, and soon was officially recognized as the Endocrinology and Metabolism Research Center (EMRC) of the same University.
Due to the commitment of its academics and staff to professionalism and their relentless efforts, EMRC was promoted to the Endocrinology and Metabolism Research Institute (EMRI) in 2010; and to the highest possible status of a research institute in the Islamic Republic of Iran in 2012.
Today, 24 years later, beside its highest status of a research center in terms of organizational structure, EMRI is one of the highest ranking in the country in terms of academic output and citation indices.
Mission 
EMRI is a pioneering institute with a mission to combine clinical care, research and education in diabetes, endocrine and metabolic diseases. By encouraging and supporting innovative research, the Institute aims to enhance understanding of these diseases and to accelerate the search for new diagnostic procedures, treatment options, and cure possibilities.
We strive to be a pioneer in expanding boundaries of science and to maintain and enhance the standing of EMRI as a research institute of national, regional, and international standing both in research and providing clinical service.   
Research Centers
Endocrinology and Metabolism Research Institute is comprised of three affiliated research institutes and several research groups, as follows: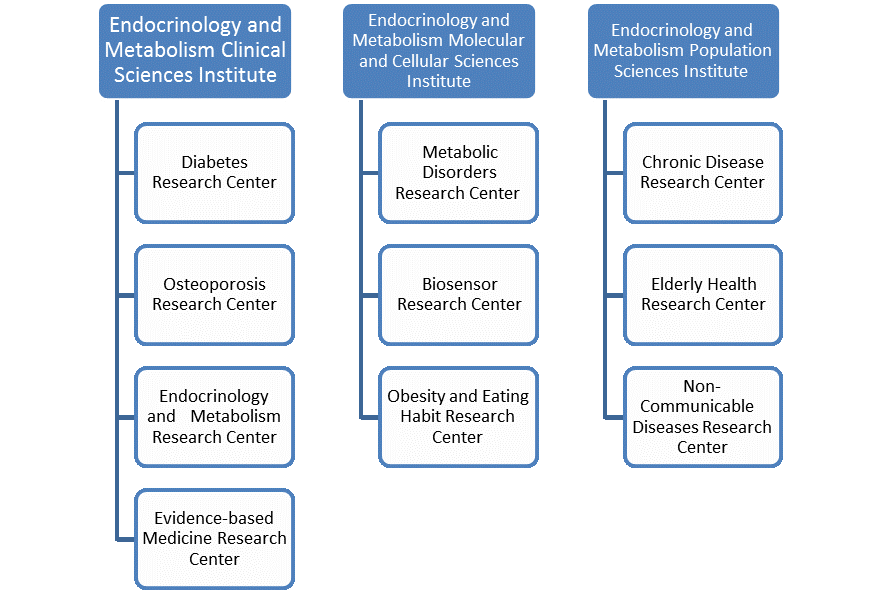 Recently, the Institute has begun special initiative to establish research center  in the areas of metabolomics and genomics studies, cell therapy and regenrative medicine,  as well as  personal medicine.
Research Groups
The following research groups are working as a subcategory of research centers to facilitate the knowledge production.  
Medical Ethics
Traditional Medicine
Innovation
Modeling and Simulation in Medical Sciences
Bionanotechnology
Immunogenetics
Islamic Fasting
Research Laboratories
Biochemistry and Hormones

Cellular and Molecular

Food and Drug

Modeling and Simulation

Bionanotechnology

Nano-biosensor

Biobank facilities

Cleanroom facilities
Clinical Facilities
The Staff in our clinical facilities are experienced in all phases of clinical services to patients with diabetes and endocrine-related disorders.
Activities
Education
Educational activities are performed under two categories of professional and public education.  
Specialty Education Department
As the top ranked medical institution for research in medical field in Iran, EMRI has created a culture of strong collaborations across disciplines.
 Researchers in EMRI make use of a variety of facilities and resources including leading clinical and basic science scholars, state-of-the-art laboratories, and  learning environment in the inpatient and outpatient clinical wards to peruse teaching- learning activities in different endocrine-related fields.
By encouraging crosscutting research, EMRI is one of  the few  Health Centers of Excellence in Iran which offers interdisciplinary PhD training programs and various advanced courses in related fields.
The general policies of the Institute in the field of medical education are as below:
Increasing  the quality of medical education through development of research-based education

Utilization of research findings 

Empowering  the researchers in medical fields, particularly endocrine and metabolism, through both research-based education and skill development with an emphasis on knowledge-based economy and entrepreneurship

Exchanging  knowledge and experiences with domestic and foreign authoritative centers for research-based education
What do we offer?
Our institute offers plentiful opportunities for learning and education including:
Ph.D. Program
Our Ph.D. programs will provide excellent training in various fields cell biology, stem cell, molecular genetics, epidemiology, biosensor, neuroendocrine, and geriatrics.
Postdoc
The Department's Postdoctoral Fellowship Scheme provides graduates of Iranian universities, as well as those of other countries, especially from the countries in the region, with an opportunity to establish their prospective careers within a top-ranked research institute, benefiting from mentoring and support from eminent scholars in different fields of endocrinology and metabolism. 
Sabbatical programs
The EMRI sabbatical programs are designed for the faculty of different universities so that they can update their knowledge and skills and enjoy the impressive  academic and vibrant atmosphere of the institute. Considering its rich resources, long history of research, and academic standing, the EMRI is a great place for intellectual enrichment and academic achievements.
Skills-based Short Courses
The EMRI hosts numerous national and international skills-based short courses and workshops each year. These events are held by the institute in order to update Iranian clinicians and scientists on the recent advances in the field of endocrinology and metabolic diseases.
Public Education:
Public awareness campaigns, weekly diabetes education for patients and their families, family health campaigns

Publication and distribution of educational materials, including books, booklets, brochures, pamphlets & CDs distributed all over the country.

Community-based activities on World days (World Diabetes Day, World Osteoporosis Day, World Elderly Day)
Research Research Fields
Diabetes prevention, education and management

Prevention and  management of Diabetic Foot

Expansion of Hip Fracture Registry & FRAX tool validation

Assessment of bone density in patients with secondary osteoporosis.

Pancreas and Pancreatic Islet Beta-Cell Transplantation

Thyroid and  Endocrine Cancer

Life style modification and prevention from diabetes and osteoporosis

Genetic basis of endocrine diseases

Biotechnology & Nanotechnology

Biosensor

Personalized Medicine

Cell Therapy and Regenerative Medicine

Elderly Health

Obesity and Eating Habits

Evidence-Based Medicine

Metabolomics, genomics, and Omics

Burdon of noncommunicable diseases
Journal of Diabetes & Metabolic Disorders
Originally starting in 2002 and transferring to BioMed Central in 2012, Journal of Diabetes & Metabolic Disorders (JDMD) is the official journal of EMRI which provides a platform for the publication of research in the field of diabetes, metabolic and lipid disorders, including evidence-based practices with a particular focus within the Middle East .
The particular features of JDMD are:
Online and open access journal

Supporting the article-processing charges in part by Tehran University of Medical Sciences

Interdisciplinary approach adopted in the publication

Publishing a wide range of original clinical and translational articles and reviews in the field of endocrinology.
 Topics of interest in JDMD include (but not limited to):  diabetes, lipid disorders, metabolic disorders, osteoporosis,  interdisciplinary practices in endocrinology, cardiovascular and metabolic risk, aging research, obesity, traditional medicine, psychosomatic research, behavioral medicine, ethics and evidence based practices.
Further information can be found in: http://www.jdmdonline.com
Health Services
Treatment activities of the Institute are offered at:  Specialty and Subspecialty Diabetes Clinics, General Endocrinology Ward, Obesity clinic, and Osteoporosis clinic.
Specialty and Subspecialty Diabetes Clinics of EMRI are comprised of different units which offer ophthalmology, cardiology, nephrology, neurology, and psychiatric services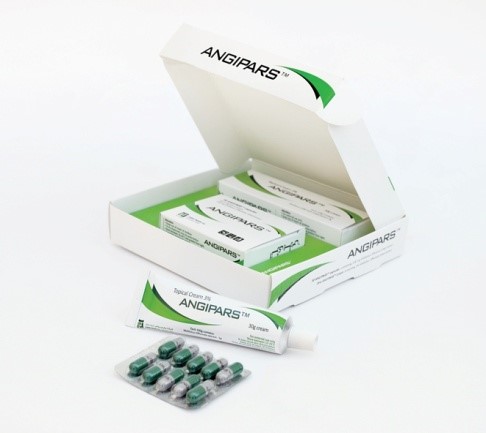 Prominent Innovative Achievements
Besides its achievements in different fields of research, treatment, and education, EMRI has been successful in obtaining some groundbreaking achievements in diagnosis and treatment of diabetes:
Angipars: a novel herbal medication for diabetic foot ulcer

Pancreatic cell transplantation

Stem cells treatment in Diabetes

Invention of a portable device for pain-free glucose monitoring using saliva and tears

Invention of a device for the detection of sulfonylurea in the urine

Collaboration with International Organizations
EMRI has implemented scientific international collaborations, memberships and agreements with international research institutions and universities with similar interests including but not limited to Harvard University, Imperial London College, Oxford University, Mayo Clinic,  Italian Barometer Diabetes Observatory, International Diabetes Federation,  International Working Group on the Diabetic Foot, and several other prestigious organizations.
World Health Organization (WHO)
EMRI was assigned as a WHO collaborating center for Osteoporosis and Diabetes in 2007.
Considering the outstanding performance of EMRI in promoting public awareness and improving management strategies for osteoporosis and diabetes at a national level, as well as its future plans for tackling those diseases, the Regional Steering Committee of WHO Collaborating Centers extended the WHO collaboration with the institute for two further periods of four years up to January 2019. 
EMRI, being re-assigned as the WHO Collaborating Center in "Research and Education on Management of Osteoporosis and Diabetes," leads and synchronizes multicentric studies and support researchers working in different NCDs-related fields.
International Osteoporosis Foundation (IOF)
EMRI has been an active member of IOF since 2002, and collaborateS with the global experts in the   Committee of Scientific Advisors (CSA) and regional advisory committee.
The institute has been involved in raising public awareness and improving professional education by different means such as organizing national and international events, establishment of Osteoporosis Research Center within the institute, and conducting joint research projects.
Contact us
Address: No 10, Jalale Al Ahmad St., Next to Dr. Shariati Hospital Complex,
Tehran, Iran  1411713137
Hours: Saturday-Thursday     7:00 a.m.-19:00 p.m. 
Closed on Fridays
Website: http://emri.tums.ac.ir